#38: Listen as Anna Rofsky, an Enterprise AE at Forethought, talks about her career evolution from aspiring actress to rockstar sales rep. We discuss turning calculated risks into opportunities, overcoming imposter syndrome, mentoring, and how pursuing skills outside her standard role helped her gain confidence and dominate her industry.
Important Links:
Forethought LinkedIn Company Page
Don't feel like listening? Read the Episode Cliff Notes instead below:
Taking Risks And Finding Opportunities
Anna studied theater in college but ultimately decided not to pursue acting. She broke into the sales industry after a friend with a connection at Indeed convinced her she'd do great in sales. (0:45)
She weighed the pros and cons, talked to several friends about their experiences working for Indeed, and decided to give it a try. As it turned out, that calculated risk paid off 100% because she ended up loving sales and finding her true passion.
She reflects on how her move to HubSpot was probably her best career move to date. She attributes this to the abundance of opportunities and chances she took to grow in areas outside of being a standard AE.
Change In Motion
At Indeed, Anna sold pay-per-click advertising and space, which taught her more fundamental sales skills and the grit and grind of selling. (2:37)
HubSpot moved her out of a transactional product and taught her how to be a more consultative seller overall.
You have to be an advisor and qualify and disqualify your prospects just as much as they're qualifying and disqualifying you. You also have to understand the client's pain points, structure as a business, immediate goals, and long-term goals.
Failure As Growth Opportunity
Anna shares how much she struggled at HubSpot in the beginning. It was a huge learning curve, and she had to learn a lot very fast. This caused her to develop major imposter syndrome. (6:12)
Anna attributes her ability to turn things around to have such a supportive team that really wanted to lift her up is what helped her turn everything around.
Six months in and not performing well, she received an opportunity to work with a new hire training program. One of her teammates who really believed in her told her she should go for it. Working that program helped Anna get a lot of confidence back, which effectively put her in the right headspace to start doing well.
Tyler adds that saying yes to things we might not have the confidence for plays a huge role throughout a career in sales, whether for a small company or a big company. You've got to find those opportunities.
Passion For Mentoring
The new hire training helped diminish Anna's imposter syndrome and regain the confidence that she knew she had deep down. It's not just about doing things that sell more: if the only thing you get out of an opportunity is confidence, that's an important tool and you can use every day. (9:45)
Mentoring allowed new hires to learn from Anna and grow from Anna, which is a win-win situation. They're going to take that desire to perform well, invest it back in you, work harder for you, and actually enjoy working with you.
Whether they're booking more quality meetings, having those leadership and mentorship opportunities, or just simply being a good human, at the end of the day, we want to help people we like.
Being Open To Conversation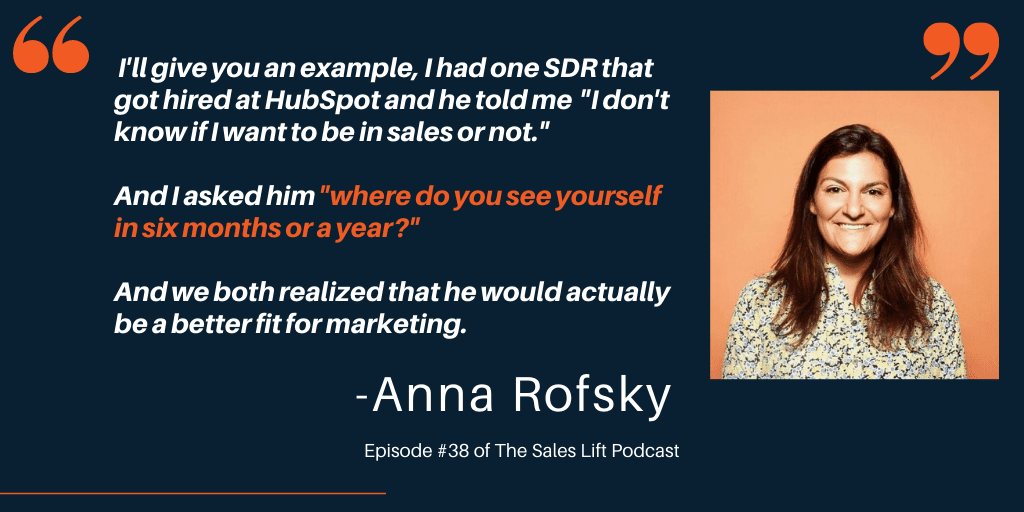 Anna shares a conversation she had with a new hire where he saw himself in six months and realized that he would actually be a better fit for marketing. (19:18)
She adds that had she not taken the time to have that conversation, she could have invested so much time and resources developing this employee's sales skills when that's not what he wanted. Then I helped him again and transitioned him into a marketing role that better fit him and his goals.
Going back to the theme of calculated risks, it all comes down to what you want to invest your time in and taking the necessary steps to get you there.
Anna Rofsky's Bio:
Anna has been in sales for 5 years with a proven track record of success (list of some accomplishments below). She has strong passion for teaching and mentoring. On a personal note; she loves to travel; most notably, backpacking solo in South East Asia for half of 2018."
HubSpot:
✦ President's Club Winner 2020
✦ Finished Top 10 in Mid-Market Segment
✦ Individually generated $1.12M ARR
✦ 2019 Year Performance – 108% to Annual Quota
✦ Winner of HubSpot Leadership Award
✦ Selected to lead "Connect Call" session for new hire training – first AE within their first year to get hired for New Hire Training, was rated #1 session consistently each year

Indeed:
✧ New Business and Total Revenue quotas (2015-2016: 147% – New Business; 128% Total Revenue)
✧ Managed quarterly books of business exceeding $1.3M in annual revenue